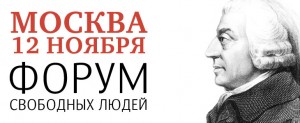 The 3rd Adam Smith Forum is being held Nov. 12, 2011 in Moscow. This is an impressive event, organized by the Center for the Philosophy of Freedom, the Libertarian Party of Russia, and others. The Chairman of the ASF Steering Committee is economist Pavel Usanov, head of the Hayek Institute for Economy and Law; Andrey Shalnev, head of the Center for the Philosophy of Freedom Moscow, is its co-chairman. I was invited to speak but cannot attend in person, so my speech "Why Intellectual Property is not Genuine Property" will be presented remotely, with Russian subtitles.
Other speakers at the upcoming ASF are expected to include: Spanish economist, Professor at Rey Juan Carlos University Jesús Huerta de Soto; economist Slavisa Tasic; Atlas Economic Research Foundation executive vice-president Tom G. Palmer; economist, 2009 Nobel laureate Elinor Ostrom; Hernando de Soto; José Piñera; Kakha Bendukidze; Walter Block; Raimondo Cubeddu, Andrei Illarionov, Alexander Nikonov, Alexander Auzan, Pavel Usanov, Vladimir Chetvernin, Konstantin Ksenofontov, Dmitry Balkovsky, Stepan Demura, Alexander Dolgin, Yaroslav Romanchuk, Sergei Zhavoronkov and others.
The Abstract of my speech is below:
Intellectual property rights, or IP—primarily patent and copyright—has long been viewed as a legitimate type of property right by libertarians and other defenders of capitalism and free markets. I argue that IP rights are not genuine property rights, and that these laws should be abolished. This issue is relevant to Russia and Adam Smith Forum members because of the pressure by the US on Russia and other countries to adopt western-style patent and copyright law. But the west has attempted to export many other laws and policies to other nations, many of which are not compatible with a free market, such as antitrust (competition), antibribery, tax, narcotics, and central banking laws and practices.

In this talk I provide an overview of the nature of patent and copyright, followed by a discussion of the nature and purpose of law and property rights in a world of scarcity. I argue that property rights apply to scarce resources only, to permit such resources to be used peacefully, productively, and cooperatively as a means of action. However, property rights make no sense are in fact perverse and undermine genuine property rights when the law attempt to apply them to information, ideas, and knowledge. Property rights must be granted in scarce resources and only in scarce resources if we are to have prosperity, freedom, and progress in science.

In fact, state IP rights are not genuine property rights, but are instead neo-mercantilist monopoly grants of privilege that protect favored recipients from competition. This enriches the patentees and copyright holders, and the state, but at the expense of consumers and competitors.

I also provide an overview of the history of opposition to IP law, identifying four key historical phases beginning around 1850.

I conclude the talk by observing that IP reform cannot work; the only solution is complete abolition of patent and copyright.